Product Overview
As a waterfowl hunter you demand accuracy, consistency, dense patterns and speed in your ammunition. Without all of these features, you leave the blind without your limit. Winchester Blind Side waterfowl shotgun ammunition offers all of these along with innovative features and benefits.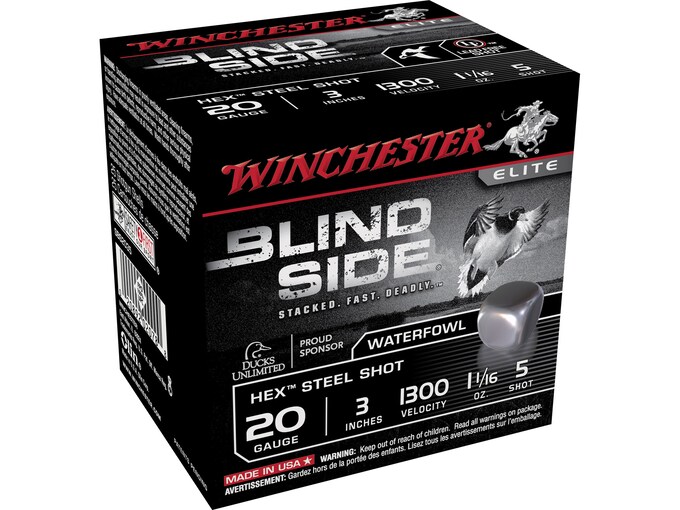 The components used to develop this ammunition is extremely unique. First, it's loaded with non-toxic steel pellets that are 6 flat-sided or Hexahedron, as opposed to round pellets used in traditional loads. What's the advantage of this? Well, the flat sides allow the shot to stack more efficiently in the hull leaving room for additional gun powder. Next is Winchester's diamond cut wad system. This design of this wad features three (3) petals that keep the pellets in a dense pattern for increased performance.
Product Information
Cartridge
20 Gauge
Quantity
100 Round
Configuration
(10 Boxes of 25)
Shot Size
#5
#2
NonToxic
Yes
Shell Length
3″
Shot or Slug Type
Steel
Buffered
No
Muzzle Velocity
1300 Feet Per Second
Lead Free
Yes
Primer
Boxer
Corrosive
No
Reloadable
Yes
Barrel Type
Smooth Bore
Shot Weight
1-1/16 Ounce
Country of Origin
United States of America
Delivery Information
| | |
| --- | --- |
| Shipping Weight | 23.950 Pounds |
| DOT-Regulated | Yes |
Was The Information On This Page Helpful?