Product Overview
The Xtreme Defender is based on the popular Xtreme Penetrator product line. The XD ammunition has an optimized nose flute, total weight, and velocity to achieve a penetration depth up to 18 inches with a permanent wound cavity (PWC) that is just simply enormous; no other expanding hollow point comes close to achieving anywhere near this diameter and volume. Not only is the PWC over 100% larger than any other expanding bullet, expansion is achieved despite being shot through barriers. The solid copper body ensures that wallboard, sheet metal, and automotive glass will have no effect on the Permanent Wound Channel. All of Underwood Ammo rounds utilize flash suppressed powder so that your vision will not be compromised if it becomes necessary to use your firearm in low light.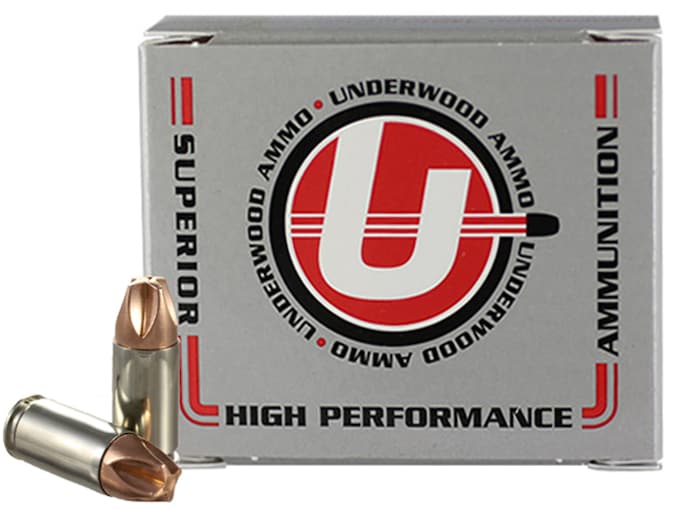 The Underwood nickel plating process provides several key benefits including; improved feeding in all actions of firearms, enhanced corrosion resistance over traditional brass, improved cosmetics, and ease of cleanup during reloading. Nickel plated casings will not tarnish like brass during storage or when in contact with foreign materials such as leather, moisture, and other metals. Until the development of the Ducta-Bright 7a process, nickel plating casings often limited the number of reloads as compared to raw brass. It was claimed that nickel plated brass casings embrittled the brass therefore making it less desirable for reloaders despite the ease of cleanup that nickel plating offers. In addition, ammunition engineers raising concerns of using nickel plating in very hot +P or magnum loads found that traditional nickel plating often cracked deep-drawn cases, or worse, lead to a total failure. This new process eliminates any concern, to the shooter or reloader, of hazard or ability to re-use the brass.
Features
Reduced recoil
Radial flutes that force the hydraulic energy inward to build pressure
Minimal surface area to increase the force at the point of contact and sharp cutting edges that defeat barriers
Note: Due to supply chain issues, these may or may not be loaded in brass marked as +P. Pressure and performance will not be affected.
Product Information
| | |
| --- | --- |
| Cartridge | 9mm Luger +P |
| Grain Weight | 90 Grains |
| Quantity | 100 Round |
| Muzzle Velocity | 1475 Feet Per Second |
| Muzzle Energy | 435 Foot Pounds |
| Bullet Style | Fluted |
| Bullet Brand And Model | Lehigh Xtreme Defense |
| Lead Free | Yes |
| Case Type | Nickel Plated |
| Primer | Boxer |
| Corrosive | No |
| Reloadable | Yes |
| Country of Origin | United States of America |
Delivery Information
0.495 Pounds
DOT-Regulated
Was the information on this page helpful?