Product Overview
The 1848 Dragoon was based on the much larger 1847 Walker Colt. It had a shortened cylinder, and the overall scale of the gun was reduced to make it easier to handle and carry. The original model was manufactured in a factory owned by Eli Whitney, Jr., and these were known as "Whitneyville" revolvers. Eventually production was moved to Samuel Colt's factory, and as improvements were made to the revolver's design, the Colt factory produced three different models of the 1848 Dragoon between 1847 and 1860. While many of the modifications were stylistic, other changes greatly improved the gun's performance. Each of these Uberti replicas is 44 caliber with a 7-1/2″ round barrel, fixed sights, 6-shot cylinder, brass trigger guard, 1-piece walnut grip and color case-hardened steel frame.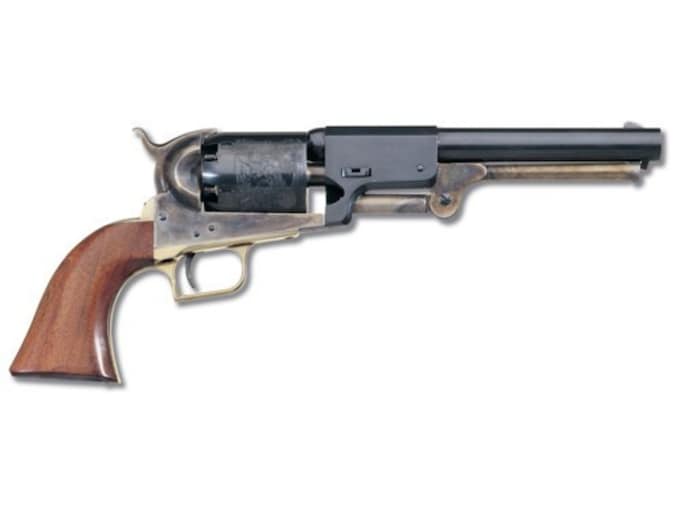 Developed in 1848, the Colt® Dragoon was issued in pairs as service firearms to members of the U.S. Army's Mounted Rifles 1st Cavalry, the first of many units known as Dragoons. The revolver had a long and distinguished history in military and civilian service during the 1850s and 1860s, including its use in the Civil War.
Features
Blue finish
Case hardened frame
Only about 7,000 made
Brass backstrap and trigger guard
Product Information
| | |
| --- | --- |
| Black Powder Caliber | 44 Caliber |
| Capacity | 6 |
| Weight | 4.1 Pounds |
| Overall Length | 13.4 Inches |
| Barrel Length | 7.5 Inches |
| Barrel Finish | Blue |
| Sight Type | Blade Front |
| Ignition Type | Percussion |
| Grip Material | Walnut |
| Frame Finish | Blue |
Delivery Information
Was the information on this page helpful?