Product Overview
Traditions deerhunter redi-pak available in stock for sale buy now
Traditions has designed this muzzleloader to be lightweight, easy to shoot and incredibly accurate for a very modest price. It doesn't matter your experience, the Traditions Deerhunter muzzleloader will fit your needs. 24" Octagonal performance barrels have a 1:48" rate of twist and are secured in a rugged synthetic  for excellent balance and superb handling.
The Deerhunter barrels are designed to shoot full bore-sized bullets, saboted bullets and patched round balls accurately. The Williams Fiber Optic Metal Sights give you pinpoint accuracy in regular or low light conditions.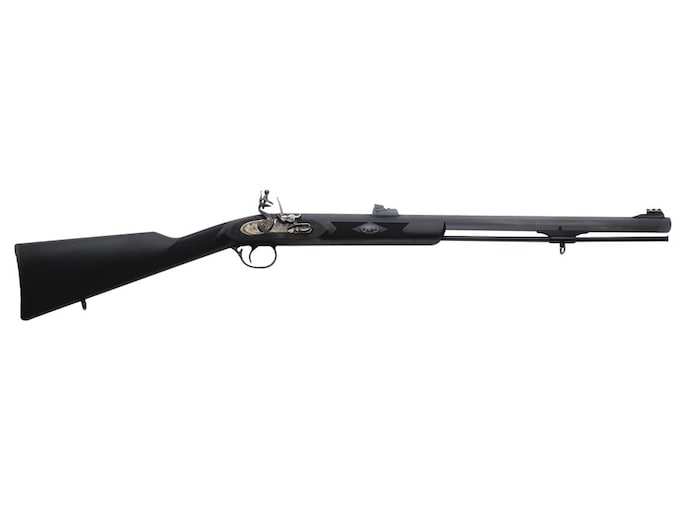 The traditions deerhunter redi-pak ( for sale ) has everything you need to start your muzzleloading experience! Redi-Paks come equipped with the necessary accessories to accompany your muzzleloader including a flask, patches, cleaner, ball starter, ammo and loaders. The only thing you'll need to pick up is the powder and flints.
Redi-Pak Contents:
.50 caliber Cleaning Jag
Black Composite Round Handle Ball Starter
(25) Cleaning patches
(3) Tubes of Smackdown bullets
Flintlock Pan Primer Flask
(2) Universal Fast Loaders
Cleaning Pick
Composite Powder Measure
EZ CleanTM Bore Spray Solvent
How To Load, Shoot and Clean Your Muzzleloader
Features
.50 caliber, 24″ Octagonal Barrel
Flintlock
1:48″ Twist Rifling
Sling Swivel Studs
Williams Fiber Optic Metal Sights
Crisp Hunting Trigger
Non-Slip Recoil Pad; Synthetic Ramrod
Redi-Pak: almost everything you need to start shooting
Product Information
| | |
| --- | --- |
| Black Powder Caliber | 50 Caliber |
| Weight | 6.5 Pounds |
| Overall Length | 44 Inches |
| Barrel Length | 24 Inches |
| Twist | 1:48 |
| Stock Material | Synthetic |
| Barrel Finish | Blued |
| Sight Type | Williams Adjustable Fiber Optic |
| Ignition Type | Flintlock |
| Stock Finish | Black |
Delivery Information
Was the information on this page helpful?