Product Overview
Light, quiet, and easy to use; the FAST EDDIE was designed with the hunter in mind. With silent, click free yardage adjustments, and both single and Double Pin options, the FAST EDDIE is sure to satisfy the needs of today's hardcore hunter. The Multi-Ring Technology (MRT) housing is available now in 2, 3, or 5 pin configurations. 2, 3, and 5 pin versions come with two multi-ring options, a small and large, as well as one single ring. This increased versatility ensures proper peep to sight alignment with most setups.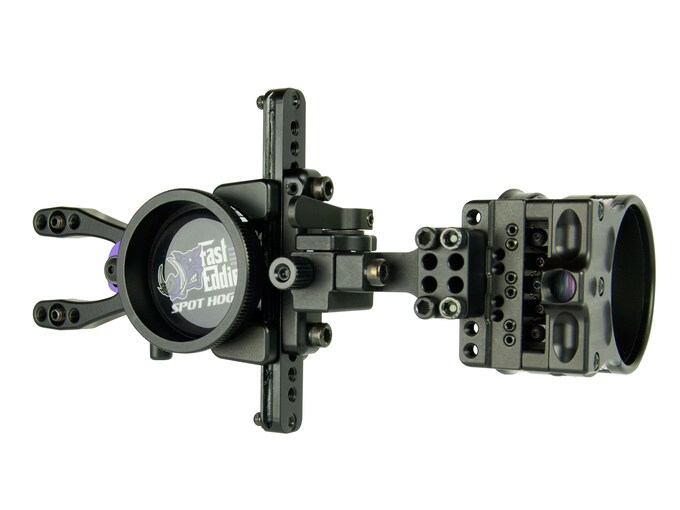 The multi-ring options provide the archer with a much higher level of accuracy in varying lighting situations by always giving the archer a bright visible ring to align their peep to. Further upgrades include a larger, more visible level, better protected, fiber optics, and an improved lighting cavity that allows the sight light (not included) to be more evenly distributed and protects unwanted light from escaping.
Features
MRT Multi-Pin Housing
Lightweight Solid Fixed Hard Mount
Micro Adjustable 2nd & 3rd Axis
Coarse Horizontal & Vertical Adjustments
Toolless Adjustment
Silent ,Quick Release Lock for Yardage Knob
HRD Technology, No Bushings, No Slop, No Buzz
Spreads Out Sight Marks
Improved Yardage Dial with better grip and more relief from the sight tape and pointer
Single Pointer for Multi-Pin Configurations
Product Information
Color
Black
Material
6061 Aluminum
Hand
Right
Left
Number of Pins
5
3
Pin Diameter
0.019 Inches
0.01 Inches
Pin Color
Multiple Color
Bubble Level
Yes
Light Included
No
2nd Axis Adjustment
Yes
3rd Axis Adjustment
Yes
Detachable Bracket
No
Country of Origin
United States of America
Delivery Information
Was the information on this page helpful?