Pietta 1862 Dance Black Powder Revolver available for sale buy now
The Pietta 1862 Dance .44 caliber revolver ( for sale ) was manufactured by the Dance Brothers in Columbia, Texas, as part of a larger effort by Texas gun makers to provide firearms for Confederate troops during the Civil War. Unlike the Union, the South had few factories. As a result, Texas and the Confederacy faced a critical shortage of firearms.
Only a trickle of guns could be smuggled through the Union blockade of the coast. The Texas government decided to encourage the production of firearms at home. James Henry Dance and his brothers established J. H. Dance and Company in 1858, manufacturing gristmills and cotton gins.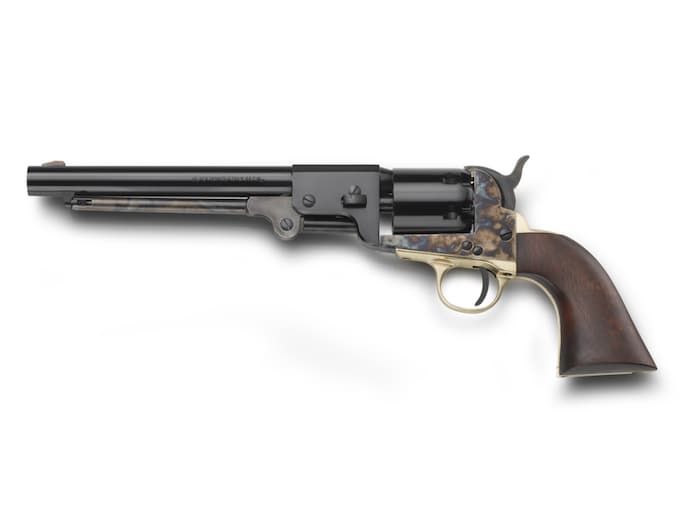 After the Civil War broke out in 1861, the company also began producing firearms. Because of the Confederacy's high demand for firearms, the company's employees were granted exemption from military service. One of the last known shipments of Dance revolvers, 25 pistols, was sent to Houston in April 1865. When the war ended shortly thereafter, the Dances returned to Columbia to again manufacture gristmills and cotton gins.
Features
.44 caliber
8″ barrel
Casehardened steel frame
Blued barrel
Product Information
| | |
| --- | --- |
| Black Powder Caliber | 44 Caliber |
| Capacity | 6 |
| Barrel Length | 8 Inches |
| Trigger Type | Single Action |
| Barrel Finish | Blue |
| Sight Type | Blade Front |
| Ignition Type | Percussion |
| Grip Material | Walnut |
| Frame Finish | Case Hardened |
| Country of Origin | Italy |
Delivery Information
Was the information on this page helpful?