Product Overview
Nosler 308 accubond 165 grain ammo available in stock for sale buy now
Nosler Trophy Grade Ammunition 308 Winchester 165 Grain AccuBond ( buy now ) is a high quality, production-run ammunition manufactured to strict tolerances and inspected as it is hand-packaged. Trophy Grade features Nosler Custom brass and the dependable, high performing bullets you know and trust.
This Nosler 308 accubond 165gr, 200gr,180gr,125gr,150gr ammunition ( in stock ) is loaded with Nosler's AccuBond bonded core bullet. Through a proprietary bonding process that eliminates voids in the bullet core, AccuBond marries Nosler's traditional copper-alloy jacket with its special lead-alloy core. The result is a Nosler 308 accubond ( for sale ) bullet that flies true, penetrates deep, won't cause extensive barrel fouling, and will retain 60-70% of its weight. The white polymer tip helps protect against deformation while initiating expansion upon impact.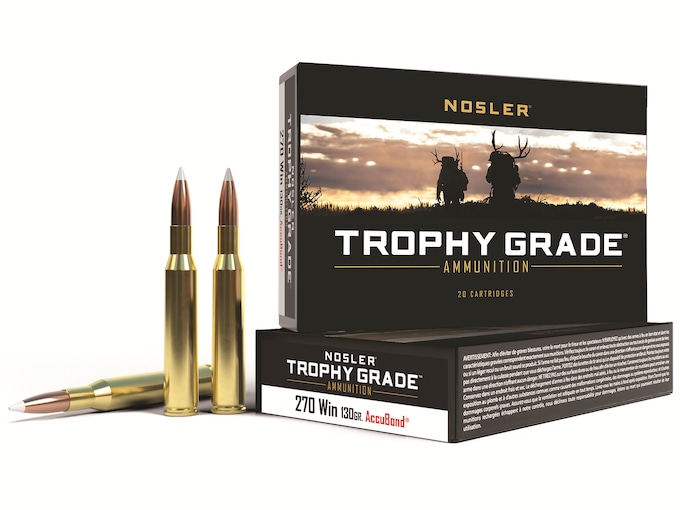 Product Information
Cartridge
308 Winchester
Grain Weight
165 Grains
200 Grains
180 Grains
168 Grains
125 Grains
Quantity
20 Round
50 Round
100 Round
Muzzle Velocity
2800 Feet Per Second
Muzzle Energy
2871 Foot Pounds
Bullet Style
Bonded Polymer Tip
Bullet Brand And Model
Nosler AccuBond
Lead Free
No
Case Type
Brass
Primer
Boxer
Corrosive
No
Reloadable
Yes
G1 Ballistic Coefficient
0.475
Velocity Rating
Supersonic
Delivery Information
| | |
| --- | --- |
| Shipping Weight | 1.185 Pounds |
| DOT-Regulated | Yes |
Was The Information On This Page Helpful?