Product Overview
For over 60 years, the professionals at Nosler have been making precision bullets for competitive shooters, varmint hunters and big game hunters. Now they've taken Nosler premium hunting bullet technology and created a Custom line of premium ammunition with the use of new brass from popular brands from the reloading industry.
Loaded exclusively for GUNSTORERANGE, Nosler Custom Ammunition is available in over 100 loads. The brass is cut to the exact SAAMI specifications, chamfered, deburred and the flash holes are checked for proper alignment. Primers are inspected and hand seated. The powder is hand thrown and verified for consistency. Finally the bullet is inspected and properly seated in exact alignment.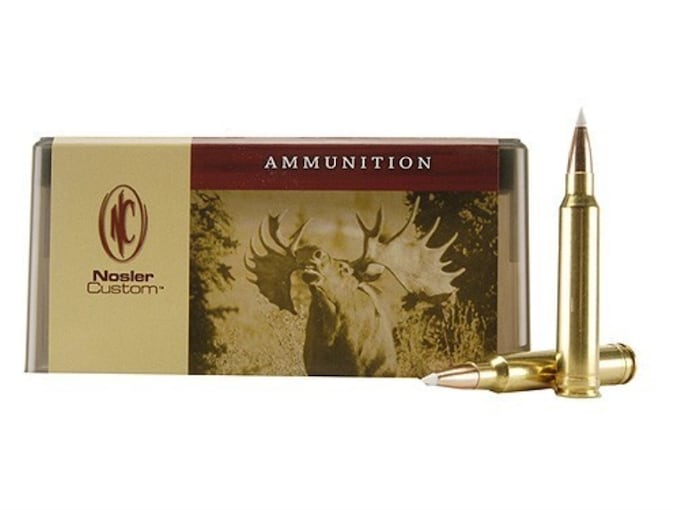 The entire loading process is personally hand-assembled by Nosler Ballisticians. The finished round is equal to the best of handloads. Loaded rounds are hand packaged in plastic ammo boxes with custom ballistic data printed in the label. This ammunition is new-production, non-corrosive in boxer-primed, reloadable brass cases.
Note: Some calibers may be loaded in commercial brass if Nosler brass is unavailable.
AccuBond represents the most advanced bonded core bullet technology to date. Through a proprietary bonding process that eliminates voids in the bullet core, AccuBond marries Nosler's traditional copper-alloy jacket with its special lead-alloy core. The result is a bullet that flies true, penetrates deep, retains its weight and won't cause extensive barrel fouling, plus it retains 60-70% of it's weight. The white polymer tip helps protect against deformation while initiating expansion upon impact.
Product Information
| | |
| --- | --- |
| Cartridge | 300 Winchester Magnum |
| Grain Weight | 200 Grains |
| Quantity | 20 Round |
| Muzzle Velocity | 2800 Feet Per Second |
| Muzzle Energy | 3481 Foot Pounds |
| Bullet Style | Bonded Polymer Tip |
| Bullet Brand And Model | Nosler AccuBond |
| Lead Free | No |
| Case Type | Brass |
| Primer | Boxer |
| Corrosive | No |
| Reloadable | Yes |
| G1 Ballistic Coefficient | 0.588 |
| Velocity Rating | Supersonic |
Delivery Information
1.720 Pounds
DOT-Regulated
Was the information on this page helpful?