Product Overview
The Kel-Tec P17 is simple, affordable and reliable. If you're in the market for a 17-round, compact .22LR pistol with more bells & whistles than a Christmas Day parade, then the P17 is definitely for you!
Don't let the small size fool you. This little pistol is a tack driver. The excellent trigger, fiber optic front sight and adjustable rear sight help you extend the P17's range. It's a handy little .22LR that builds confidence and burns bull's eyes. At less than 14-ounces fully loaded, and barely longer than a dollar bill, the P17 is concealable for pretty much anyone. Just don't forget it's there when you need it! The threaded barrel, Picatinny-style accessory rail, ambidextrous safety, ambidextrous magazine release and three (3) 16rd magazines come standard. That's a ton of value added in such a small package.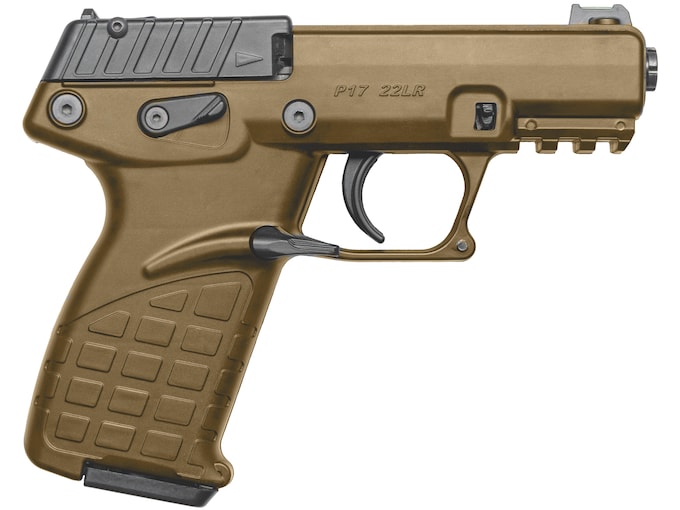 Every tool has a purpose and having the right tool for the job sets you up for success. Its size, weight, and caliber are the perfect combination for training that new shooter in your life. For more experienced shooters looking to hone their skills, the P17 is also a great training tool for when you're on a budget.
Product Information
Cartridge
22 Long Rifle
Capacity
16+1 Round
Weight
12.8 Ounce
Barrel Length
3.93 Inches
Threads
1/2″-28
Action Type
Semi-Automatic
Trigger Type
Striker
Safety
Thumb
Threaded Muzzle
Yes
Barrel Finish
Black
Front Sight
Fiber Optic
Rear Sight
Adjustable
Frame Material
Polymer
Grip Material
Polymer
Frame Finish
Black
Magazine Quantity
3
Slide Finish
Black
Grip Style
Textured
Grip Color
Black
Tan
Compensated
No
Country of Origin
United States of America
Delivery Information
Was the information on this page helpful?