Product Overview
KelTec KSG 25 for sale buy now
The KelTec KSG 25 ( for sale ) is no ordinary KSG. Its extended dual tube magazines hold twenty 3 inch, 12 gauge shells (plus one in the chamber), with the flexibility of switching between various projectiles. A patented downward ejection system makes it truly ambidextrous, while its 38 inch overall length, and 30.5 inch cylinder bore barrel still makes it more compact than a traditional style shotgun that holds a fraction of the amount of ammo.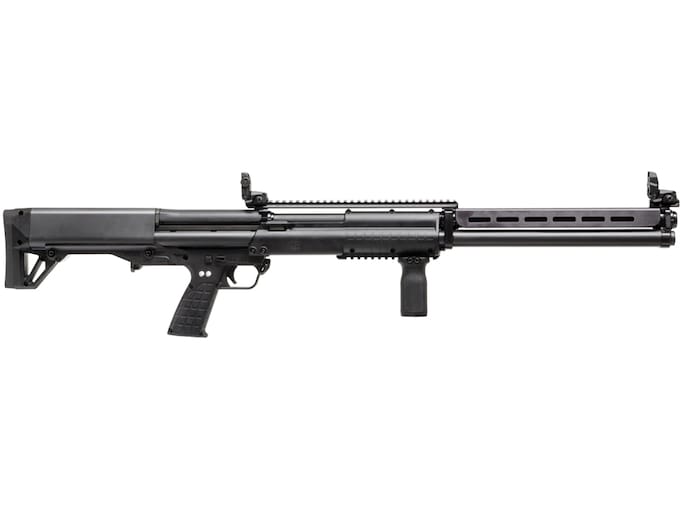 The KSG is a dual-magazine select-feed 12-gauge pump action shotgun. The bullpup dual-magazine select-feed design provides the operator with a more compact layout, increased total capacity, and the option to rapidly switch between two magazines of ammunition. The KelTec KSG 25 ( boy now ) features positive extraction and ejection, allowing it to be reliably fired in any shooting orientation.
Loading and ejection are combined into a single port rearward of the grip assembly under the shotgun, enabling the KSG to be fired from both the dominant and non-dominant side. Two integral MIL-STD-1913 Picatinny rails, located above the barrel and on the forend, come standard with the KSG for mounting accessories. Unloaded, the KSG maintains a center of gravity over the grip assembly to facilitate ease of handling.
Features
MAGPUL MBUS Flip-up Sights
MAGPUL Vertical Grip
Cylinder Bore Choked
Product Information
Cartridge
12 Gauge
Capacity
24+1 Round
Weight
9.25 Pound
Shell Length
3″
Overall Length
38 Inches
Barrel Length
30.5 Inches
Hand
Ambidextrous
Chokes Included
Cylinder
Youth
No
Action Type
Pump Action
Stock Type
Field
Stock Material
Synthetic
Stock Color
Black
Tan
Safety
Crossbolt
Barrel Finish
Blued
Ported
No
Frame Material
Polymer
Interchangeable Choke
No
Frame Finish
Black
Tan
Country of Origin
United States of America
Trigger Pull
5 Pound
Choke Type
Fixed
Delivery Information
Was the information on this page helpful?