Product Overview
The sport of bowhunting can often lead to challenging situations and conditions. Gold Tip's Hunter family of arrows provide the versatility to meet the demands of every level and challenge you may encounter. Proving speed, stability and strength, thanks to Gold Tip's 100% carbon technology, the Hunters have become the "go-to" hunting arrows for many thousands of bowhunters. Gold Tip Hunter Series arrows have set the standard in the industry for durable arrows capable of success on the tournament podium or in the field. Manufactured to exact tolerances for shot after shot repeatability, a Gold Tip is a solid choice for any archer. Pick some up and see why they are touted as "the toughest arrow you will ever shoot."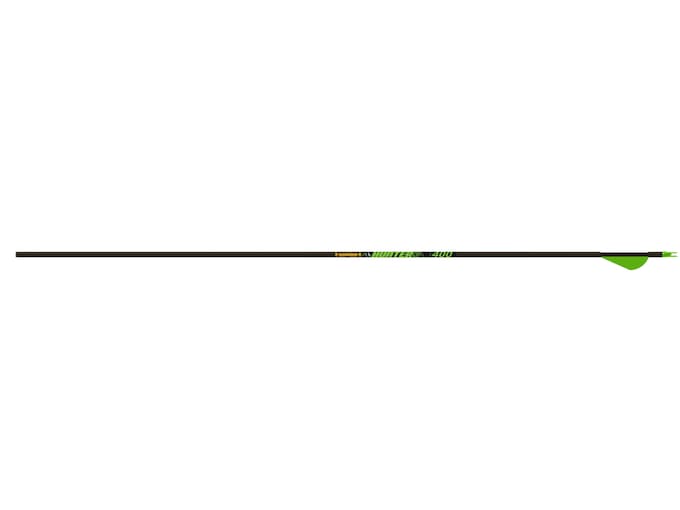 XT series arrows give you the straightness tolerances you need to get the job done without breaking the bank. These arrows are manufactured from the same materials and process as the Pro series arrows giving you the quality you demand without the added cost.
Proper spine selection is the key to optimum arrow flight. For more information on selecting the proper arrow spine please select link below for the arrow spine selection chart. You will need to know the total shaft length of your arrow, the point weight that you will be shooting, and the poundage of your bow.
Note: Arrow nock color and fletching color on arrows is selected at the factory. All arrows within a single pack will be the same fletching and nock color combination. Depending on production runs colors may vary.
Product Information
Color
Black
Material
Carbon
Quantity
12
Overall Length
30 Inches
Spine
500
400
340
300
250
Fletched
Yes
Grains Per Inch
7.3
Straightness
0.003 Inches
Insert Weight
12.1 Grains
Fletching Type
2″ Raptor Vanes
Nock Weight
11.5 Grains
Weight Tolerance
2 Grains
Outside Diameter
0.291 Inches
Delivery Information
Was the information on this page helpful?