Product Overview
Shooters who compete at the highest levels need ammunition built for the demands of their discipline. American Eagle Syntech Action Pistol is specifically designed for the action shooting sports and loaded to power factor requirements with heavy, flatter-nosed bullets for more reliable knock-downs on steel targets in competition. Like all Syntech loads, they feature the exclusive Total Synthetic Jacket (TSJ), which prevents metal-on-metal contact between the bullet and barrel, eliminating copper and lead fouling as well as reducing damaging heat and friction. Combined with clean-burning powders and the Catalyst lead-free primer, Syntech Action Pistol provides the softest-shooting and most reliable performance possible for high-volume competitive shooters. This ammunition is new production, non-corrosive, in boxer primed, reloadable brass cases.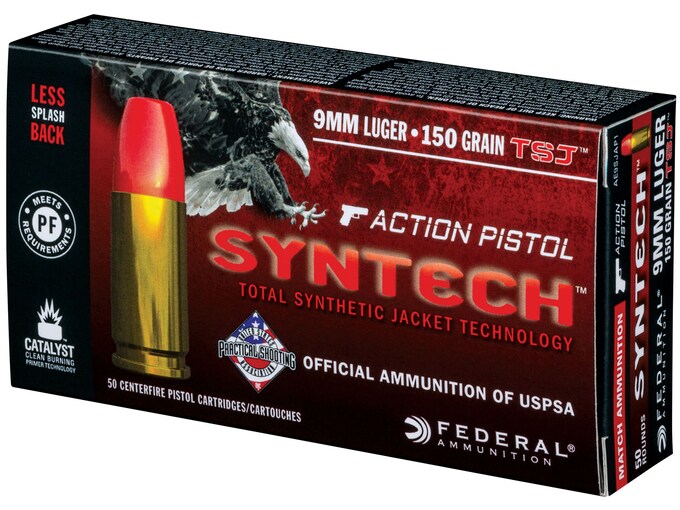 Features
Optimized for action shooting sports' power factor requirements
Reduced felt recoil
Flatter than typical nose profile for better energy transfer to steel targets
TSJ eliminates copper and lead fouling, while extending barrel life
Lead-free primer formulation provides reliable, consistent ignition
Clean-burning propellants minimize residue
Drastically reduces splash-back on steel targets
Product Information
| | |
| --- | --- |
| Cartridge | 9mm Luger |
| Grain Weight | 150 Grains |
| Quantity | 500 Round |
| Configuration | (10 Boxes of 50) |
| Muzzle Velocity | 870 Feet Per Second |
| Muzzle Energy | 326 Foot Pounds |
| Bullet Style | Total Synthetic Jacket (TSJ) |
| Bullet Brand And Model | Federal TSJ |
| Lead Free | No |
| Case Type | Brass |
| Primer | Boxer |
| Corrosive | No |
| Reloadable | Yes |
| Country of Origin | United States of America |
Delivery Information
16.535 Pounds
DOT-Regulated
Was the information on this page helpful?