Product Overview
The 5 mm smaller diameter coupled with the carbon core wrapped in aircraft grade aluminum combine to make the Full Metal Jacket one of the most bone crunching arrows on the market today. Add in the new N-Fused Carbon Nanotube core and you have one of the most durable arrows available to today's bowhunter. This arrow gives big game stopping power by providing deeper penetration than traditional solid carbon or solid aluminum shafts. Combine this superior penetration with Easton's patented HIT insert system which gives superior broadhead alignment to other inserts on the market and you have one of the deadliest hunting arrows on the market today. Complete with press fit X-Nock, aluminum HIT inserts, chamfer stone, insert installation tool, and Easton HIT epoxy.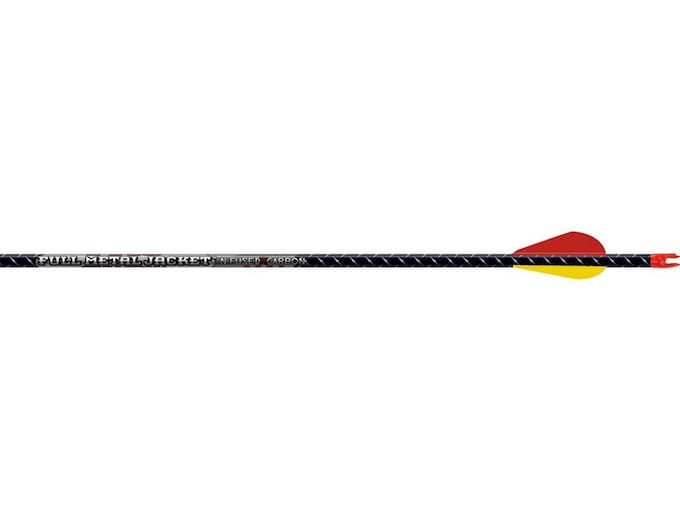 Note:
Arrow nock color, fletching color, and outsert color on arrows is selected at the factory.  All arrows within a single pack will be the same fletching and nock color combination.  Depending on production runs colors may vary.
Proper spine selection is the key to optimum arrow flight.
All arrow shafts are full-length uncut and the inserts are loose. Shafts will need to be cut to length and the inserts will need to be installed and glued. Field points or broadheads are not included with the arrows.
Product Information
Color
Black
Material
Aluminum/Carbon
Quantity
12
Overall Length
32 Inches
Spine
400
340
300
Nock Type
X Nock
Fletched
Yes
Grains Per Inch
11.3
Straightness
0.002 Inches
Insert Weight
16 Grains
Fletching Type
2″ Blazer Vanes
Nock Weight
9 Grains
Inserts
X HIT Insert
Weight Tolerance
5 Grains
Outside Diameter
5 Millimeter
Delivery Information
Was the information on this page helpful?